Circle of Style
How to Add Round Shapes to Your Home Decor
If you got to follow my Instagram, you probably noticed I use round shapes quite a lot in my personal house and in my projects, and the bigger, the better!
Round shapes can add visual interest and a softer, more organic feel to a room's decor. They are also known for creating a soothing psychological effect.
I love to integrate round accessories, like mirrors, large round canvases, rugs, and other types of furniture like coffee tables and round shelf units, or get a bit more budget-friendly by just painting huge circle colour blocks directly on a wall.
Painting your accent walls and elements is the cheapest and most affordable way to enrich your space, and add depth and texture. Adding a dramatic round shape, placed strategically on a wall can absolutely add interest, help highlight functional areas, hide eyesores, or frame interesting decor elements in a flattering way. Effort-wise, painting circles on the wall is quite simple to execute and does not require special equipment like a level.
Affordable round accessorize that will boost your decor
Let's quickly review how we can use round shapes in our furniture and accessories.
Round mirrors:
Generally, I really love to incorporate mirrors in home decor.
Mirrors reflect light and create the illusion of more space, and round mirrors have a softer, more cohesive look than rectangular mirrors. You can use a round mirror as a statement piece in your living room or bedroom, or group several smaller round mirrors together for a unique wall display.
Placing a mirror on a naked wall will create extra depth and rich textures.
But be careful, remember that mirrors reflect, and when placed in front of an ugly or cluttered element, they will actually double it. make sure to consider all possible angles and what's reflecting in the mirror before fixing it to the wall.
In my old apartments back in Tel-Aviv and Rishon Lezeion, I used the very affordable, Ikea Stockholm mirror, placed over the plastic trones boxes, to create a particularly organize drop zone at our entrance.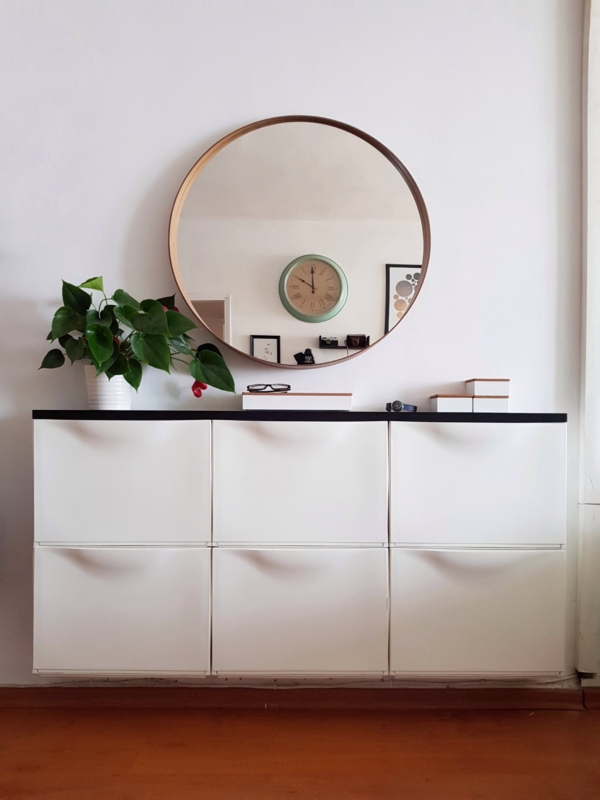 I used the same concept on a smaller scale in my new London home after relocating because I found this design combines beauty and functionality in the perfect way. This time I used two Lindbyn mirrors, round and oval in my tiny entrance hall. And I played a trick on my self because the two mirrors always reflect the typical clutter we have in this area, it encourages our family to keep the rear tidy.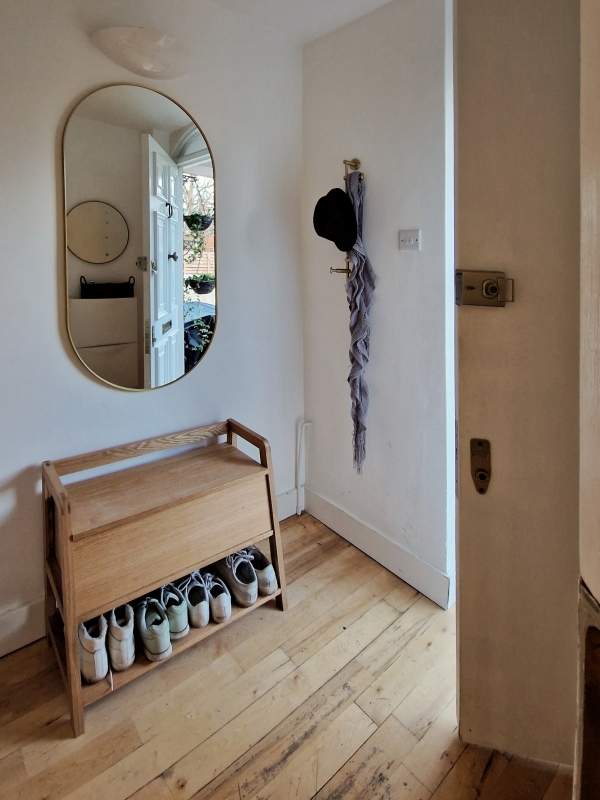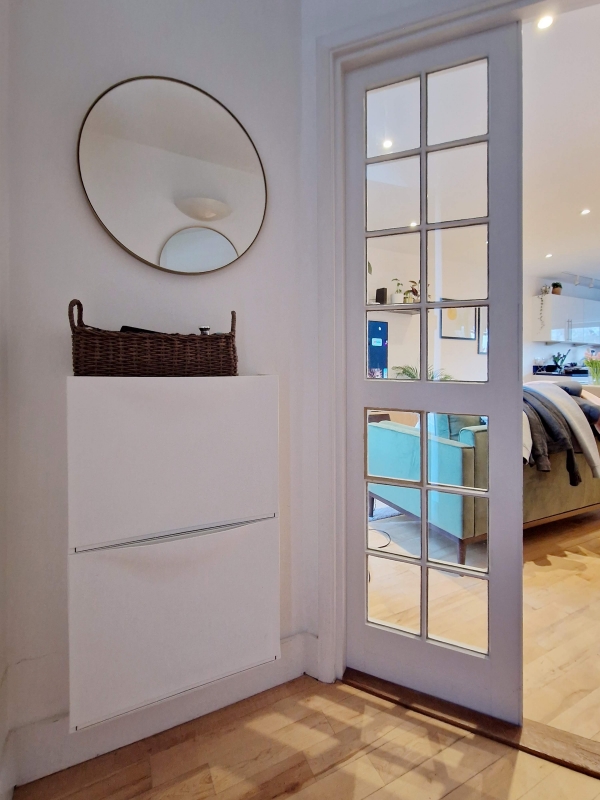 Round wall decor:
Wall decor can add personality and interest to a room, and when you want to create a cluster of pieces the fact that round shapes don't require leveling makes it easier to add them together.
You can use round wall art,  round abstract paintings, macrame, and dream catchers, or add my personal favorite hack of embroidery hoops, to add visual interest and balance to a room.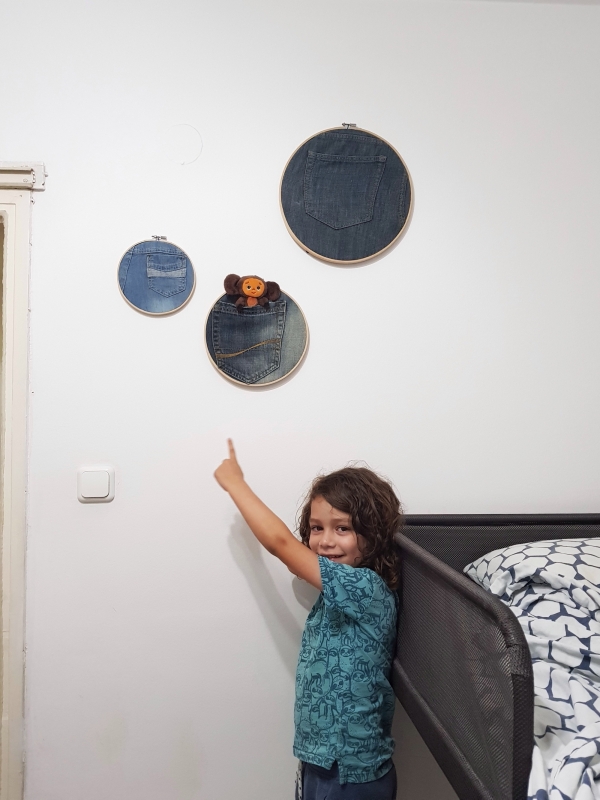 I want to take this opportunity to confess that I bought an extra large round canvas in Flying Tiger with the honest intention to create a stunning DIY wall art piece, and unfortunately never got to it.
Let's see next weekend if writing this post and admitting my procrastination issues will motivate me!
Round Rugs and Coffee Tables
You can also use round rugs (especially if you have to guide an ugly floor) coffee tables large plant pots, and mix sizes and textures.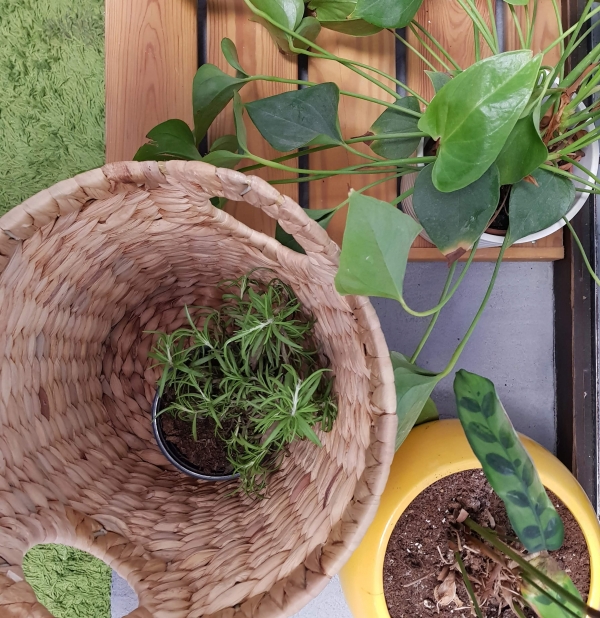 Personally, ever since I become a parent I use only round tables, and honestly, for a clumsy person like I am, who always gets to bump into furniture,  it's better having rounded tables anyway.
Back in Tel-Aviv, we had the iconic IKEA LÖVBACKEN tables that I just admire, and now in London, we got a very monumental MADE natural stone table.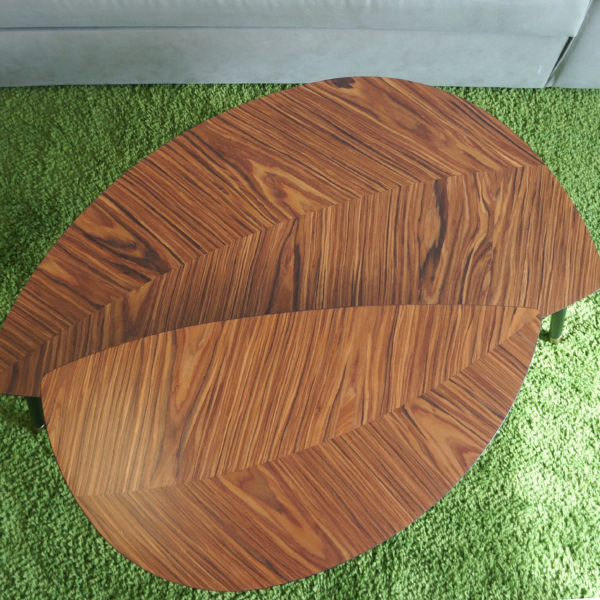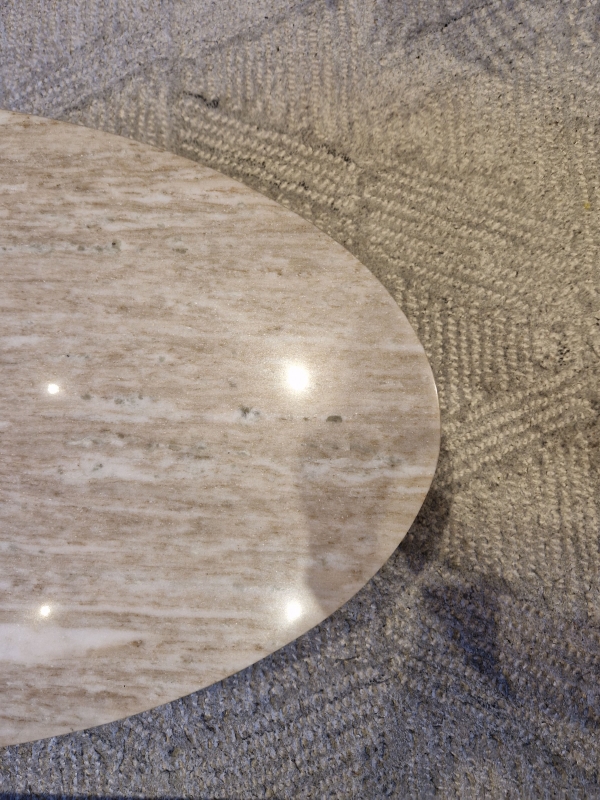 Paint a Circle on the wall
The most affordable yet impactful trick is to paint the shape on the wall.
Placing the round colour blocks correctly in your space will allow us to create focal points, highlight functional areas in the room and generate an elegant stylish feel to a space.
I used circles in two very successful projects in Tel Aviv.
For the first one, I created this epic wall art element, with perfect turquoise shades and an ombre effect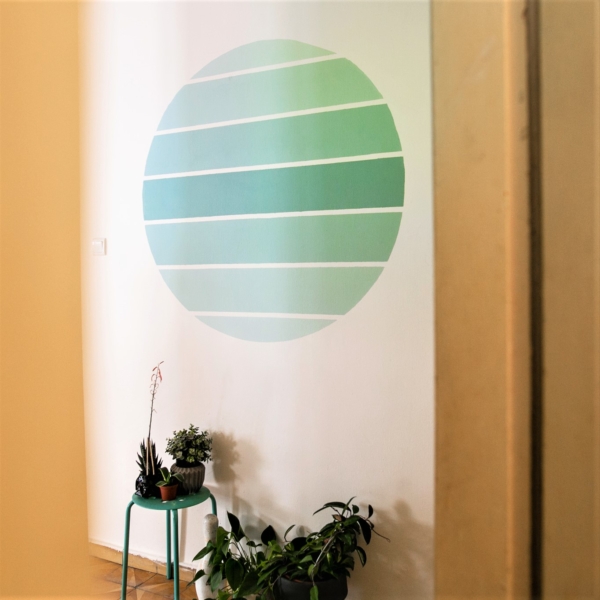 The second project used a half circle to upgrade a simple bedframe and create the illusion we have a lux bed with an amazing half-sphere headboard.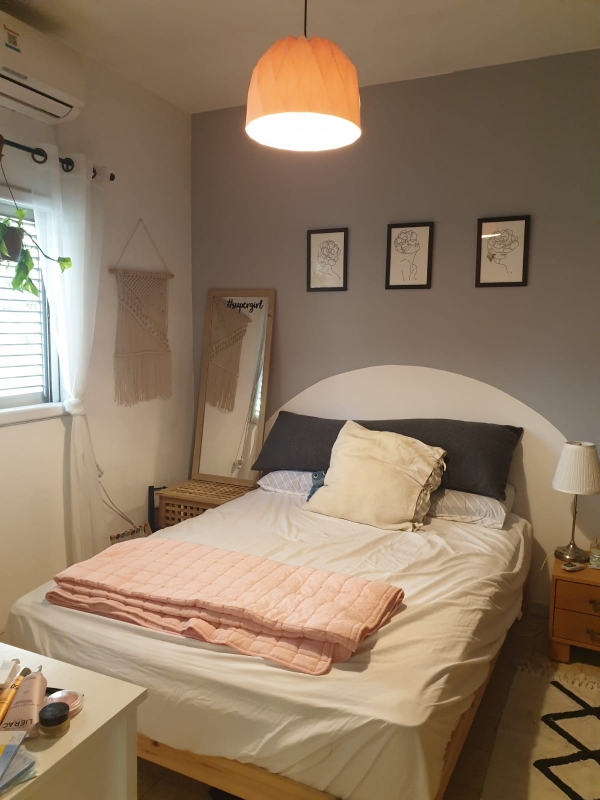 In this case, the semi-spherical shape helps to add depth and texture to the space and disguise the fact we have the cheapest bed in this room, making it look like a trendy, much more expensive bed with a headboard.
How to Draw a large circle on the wall?
Let's get practical, drawing the outline of the circle on the wall is exactly just as you would draw a small circle on a piece of paper, with a compass, but bigger!
For large circles, our compass will consist of a piece of string, a nail, and a pencil.
Measure the length of the string to make sure it is equal to the desired radius of the circle, leave an extra inch or two.
Tie a piece of string to a pencil on one end, and a large nail on the other side.
Hold the nail at the centre of the circle and use the string to draw the circle by rotating the pencil around the centre point.
You can see more details in my post explaining how to paint the ombre circle wall painting post, and you can see how to make a semi-sphere shape in this post explaining how to create a fake headboard.
Inspo
For more ideas on how to use the painting trick in your home,  you can check out some Instagram images I've found: