Inexpensive Kids Bedroom Ideas

Every design-loving parent knows the dilemma. On the one hand, stores and Instagram pages are full of intriguing ideas for children's rooms. On the other hand, the children grow so fast that the room becomes irrelevant within a few years, even before we talked about the tendency of our tiny dwarfs to paint on walls and occasional furniture. In such a situation, it is simply illogical to spend money on designed items whose life expectancy is limited. So how do we keep the style but not challenge our pockets? Here are my winning tips for amazing kids room decor on a budget:
Order and Cleanliness
If it's an existing room and you want to refresh its design, the first step is to revise the furniture layout as well as other objects.
A good design is a design that combines the practical and the functional, the beautiful and the aesthetic. Even before we decide on a design style, we must make sure that the room meets the needs of the small tenants, that it's convenient to arrange and clean and that there are enough storage spaces accessible to the children so that they can take and return objects and toys they use.
In order to examine the functionality of the room, one must first clean and arrange the room and remove objects that are no longer relevant. This is an opportunity to donate old toys and books, refresh the closet and say goodbye to what is small and worn.
Many times you will find children's rooms full of toys and furniture that kids have long been not bothered by like kitchens, loaded hives, and creativity tables.
The closet is also usually full of unnecessary clothes. I recommend you to go over the closet at least twice a year. That's how you can make room to hide some of the toys.
This is me, doing it in our last apartment. 
 If the children are no longer playing in the toy kitchen, it may be time to say goodbye. If you enter a new apartment and design a new room for children, avoid the temptation to buy decorations and accessories in advance and wait with them until all the main furniture have been installed.
Boldness – not with the expensive items
Many people are tempted to use paint in furniture, but the truth is that it's more appropriate to use neutral furniture. The color is simpler and cheaper to put in the walls or in the accessories. When choosing a piece of furniture, try to focus on one that can accompany you for many years.
For example, if there's no shortage of space, you can buy for the toddler a bigger bed with a railing and give up on the transition bed.
Avoid diaper tables and baby-stylized and pastel-colored cabinets, and choose the ones that will fit as furniture in a child's or adolescent's room.
Here below you can see how Ayala CV from Mostlyliving.blog is using this principle to decorate her boy's room:
Here I decided to add color by painting the lampshades I got from Aliexpress, adding red trim and painting the wall. All the furniture in the room are neutral!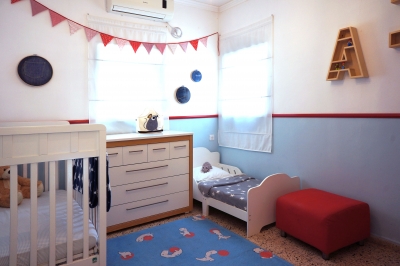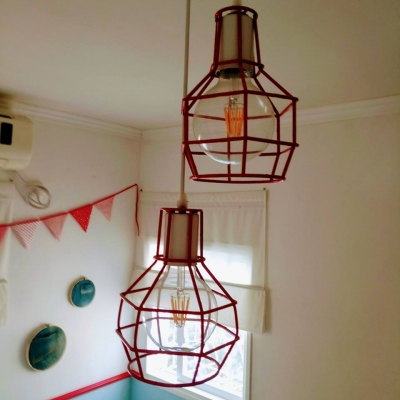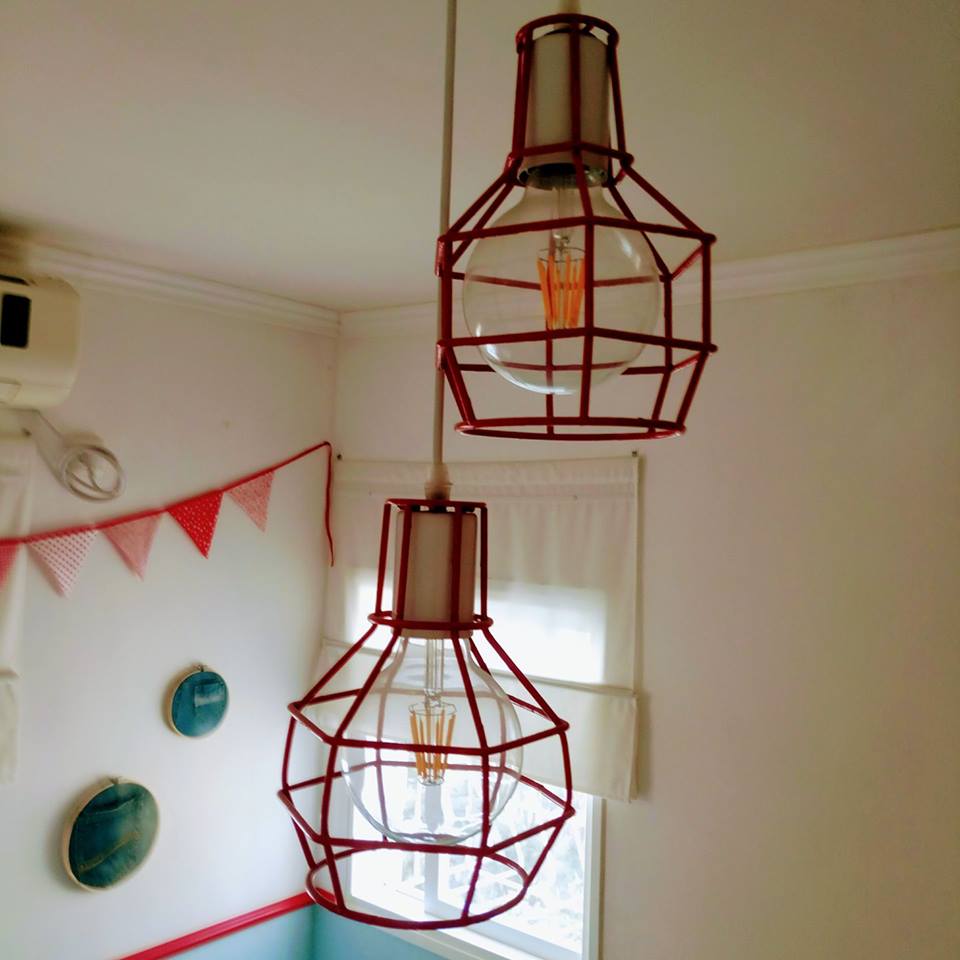 Organization of furniture in the room
Make sure that furniture is located in a comfortable spot, that there is no unnecessary furniture and that there is no missing furniture. Check to see if it's possible to change the location of furniture in the room. A different furniture set may make the room much more spacious.
In the next example of a rented apartment, a girl's room was very choked and uncomfortable. When the time comes to house two toddlers in it, a small change in the place of the wardrobe can take advantage of the space much more efficiently.
The cabinet on the left wall moved to where the desk was.
A large baby cot was placed in its place, and thus the room had more space for another diaper table with a baby bed and a carpet to play on.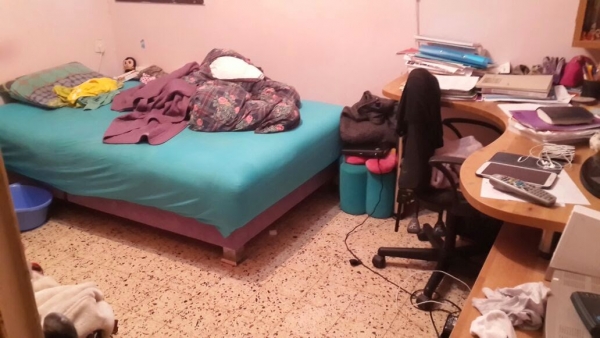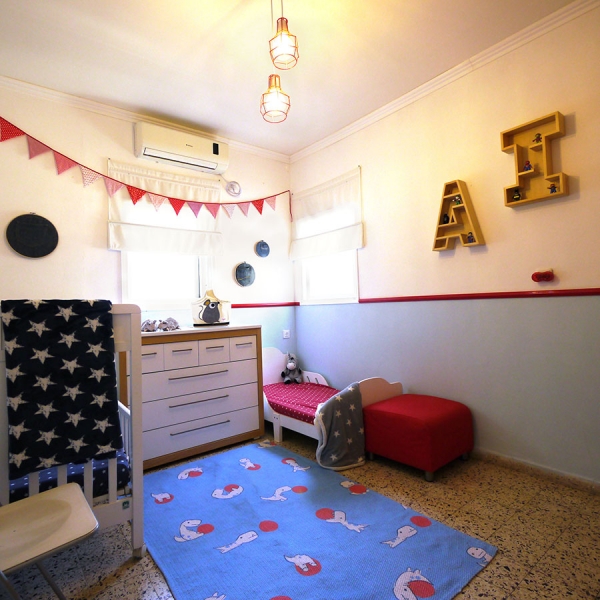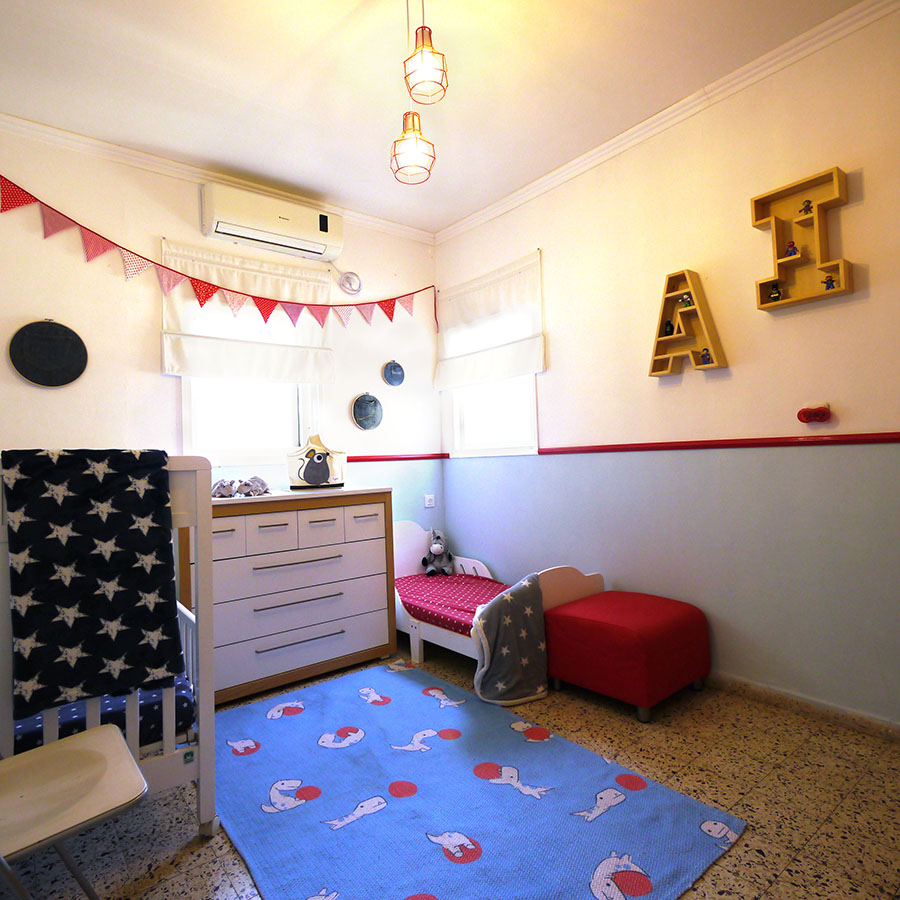 Get addicted to second-hand boards
Furniture for children's rooms have a high turnover, and many are trying to sell or deliver furniture that are a few years old. Don't worry about using second-hand items! There are still people who hold the perception that children deserve the best and that we should not spare, and there are parents who are simply disgusted by using second-hand items, and there's really no reason.
Today's detergents and disinfectants are great, there are the magic sponge and microfiber cloths, so there's really no dirt to stand with a hand that will scrub with determination.
Beyond that, you have to let go of the perception that buying second-hand items spares something from the children. On the contrary, by choosing those items for them, we're saving money that will be used in the future, and of course, we're reducing the amount of garbage that is accumulating in the world.
Furniture costing hundreds of dollars in the store will cost a few dozens in second-hand boards.
Sometimes the furniture happens to be given for free but is not exactly suitable in terms of color. No problem. Furniture can be painted easily and inexpensively.
Design details can also be found in second-hand boards. All the Facebook groups that deal with design have second-hand threads and you can find real bargains there. But hey! Don't be tempted to buy what is not needed.
 Here is the before and after of a bed, I got for free from the Israeli version of Craigslist. It was ugly, dirty, and yellow. I made it beautiful.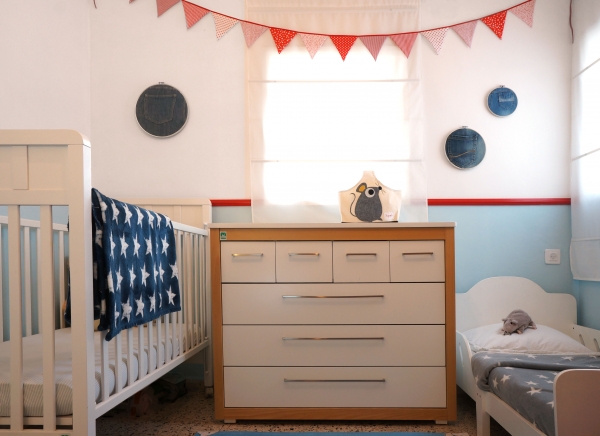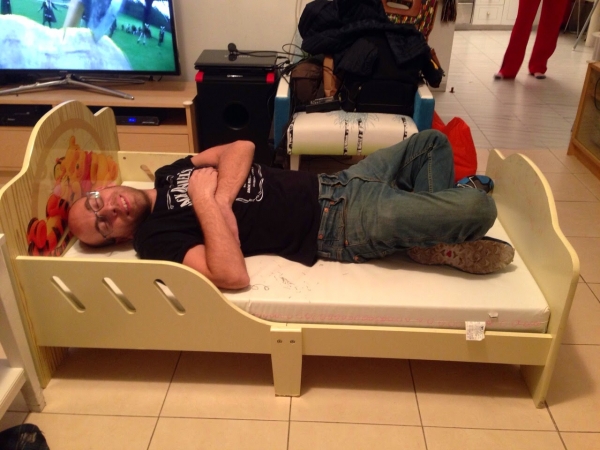 Go wild with the colors
One of the elements that make the most significant impression is the color of the walls. It's also the most easily changed element (half a day, and the room is painted), and the cheapest to change: the painting of children's rooms amounts to 100$ or even less.
There are some misconceptions that are common among the public, and it's important to be free of them. One is that dark colors reduce the room. This is a very restrictive concept because what really affects the perception of space is the organization of furniture in space. The color mainly serves as backdrop and background and gives an atmosphere. As long as you don't paint the whole room in dark color, but make do with one wall, or half the bottom wall, there's nothing to be afraid of.
The second belief is that cream is a color that adds warmth. The problem with cream is that it's a color that contains a yellow color, so it won't necessarily compliment the rest of the furniture and accessories you choose. It's best to choose a clean white base color for the walls, so it could fit any furniture, decoration or tone you'll add.
Here's a rare picture of my study/playing room in an orderly fashion.
I painted the wall yellow. It warms the space without creating heaviness.

In the "before" picture you can see the original color of the room, cream, and how the color collides with the blue curtain.

Wall stickers and stencils
To my personal delight, wallpapers have returned to fashion. The problem is that they're very expensive, and their installation and removal is complicated.
However, to create textures on the wall, wall stickers from any design store, as well as Aliexpress, can be used. You can also use washi tape, stencils, masking and painting, and even to draw with a marker.
A wall covered with special texture adds a lot of interest and creates a look of a meticulous and calculated design.
In spite of my fondness for the stickers, I would have given up Disney-branded labels or superheroes because the boy soon grew up, and they looked childish to him, or he just went to admire other characters.
Oh.. and you can use Washi-Tape also! Check out my Origami Birds blog post.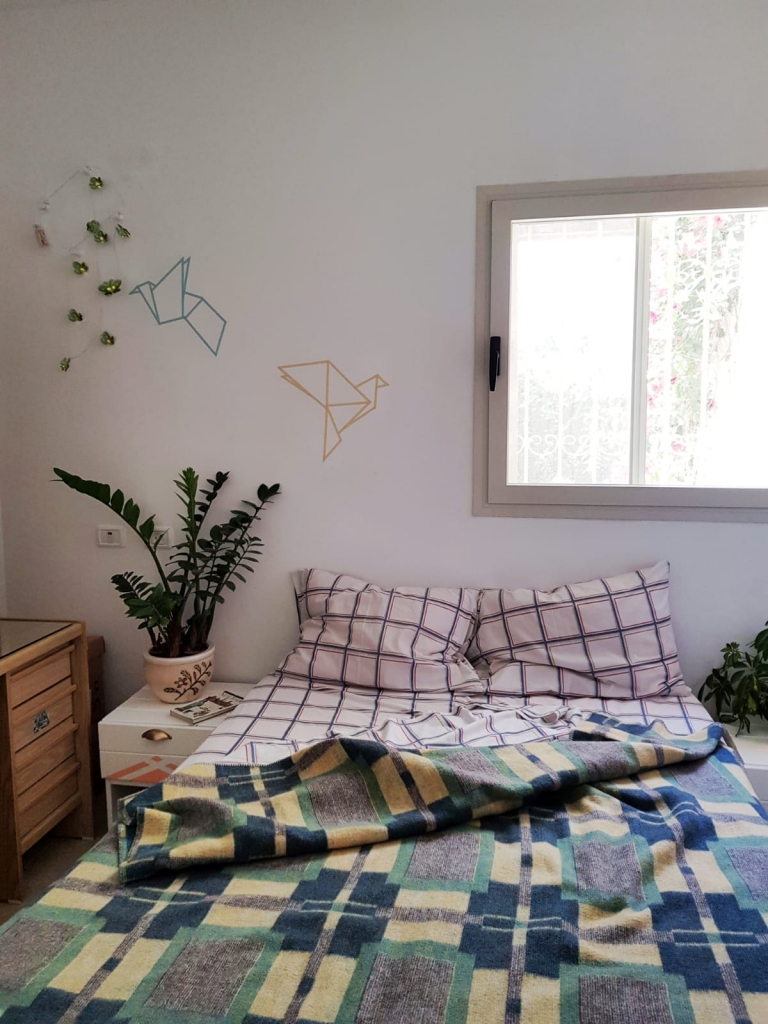 Textile
Beyond the decorations, there are many accessories that can make the room look much better. Textile is one of the most significant of them. IKEA blessed us with a selection of curtains, bedclothes, bed sheets, and cheap bedspreads. If you wait for IKEA sale, which usually takes place in January and July, you will find real bargains.
For curtains, I would recommend choosing simple white ones. They'll always suit every room and every style.
A carpet in the children's room should be suitable to the stains and therefore it's desirable to have a relatively dense pattern.
Although this is contrary to the manufacturer's instructions, know that most carpets succeed to survive washing machines.
This carpet from Society6 was washed a dozen times…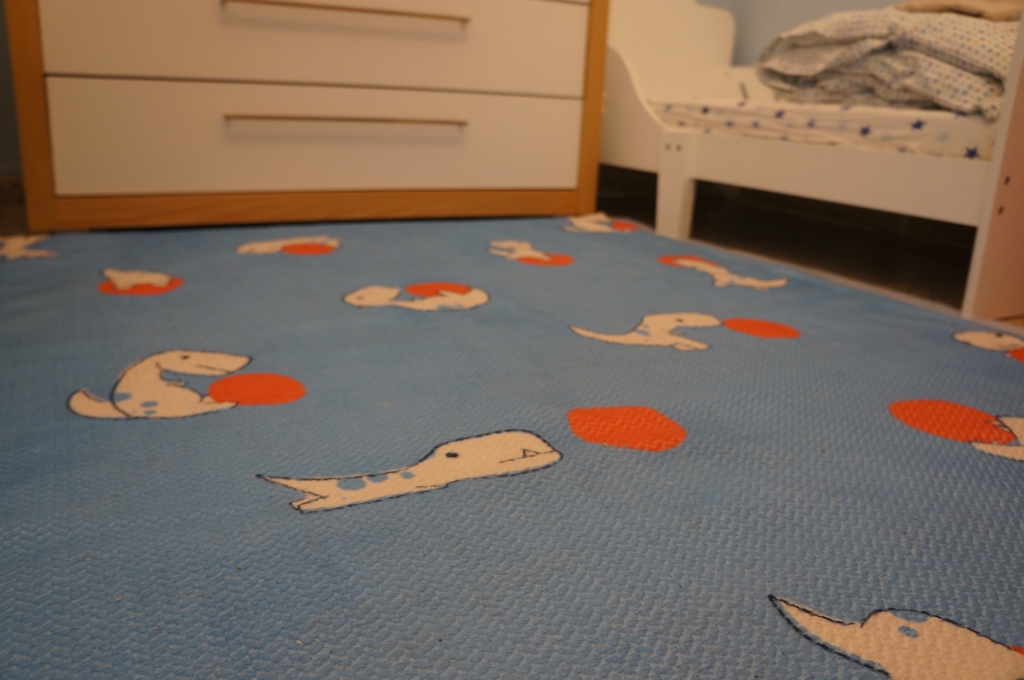 Many times when we choose beddings we choose them according to the pattern we like at the moment.
Try to choose beddings that match the overall color of the room to avoid messy appearance.
Trim moldings in children's rooms
Trim moldings are classic elements that give each room a luxurious and meticulous appearance, but their cost is minimal. They're made of polyurethane, a material reminiscent of polystyrene, comfortable for cutting, gluing and painting, and you should definitely consider incorporating them in the design.

Take advantage of the paintings from daycare
Instead of buying prints and pictures, use your children's drawings to decorate the room. You can hang them with clips on a string, you can cut the interesting parts with a paper punch and make a mosaic, and like me, you can find a simple IKEA frame, cut out the paper as you like, and replace the pictures from time to time.


Accessories – we already have them at home
There's no reason to pay for ornaments. Children have endless toys, use them to decorate the shelves instead of just being tossed in a box. In my house, the toys decorate even the living room.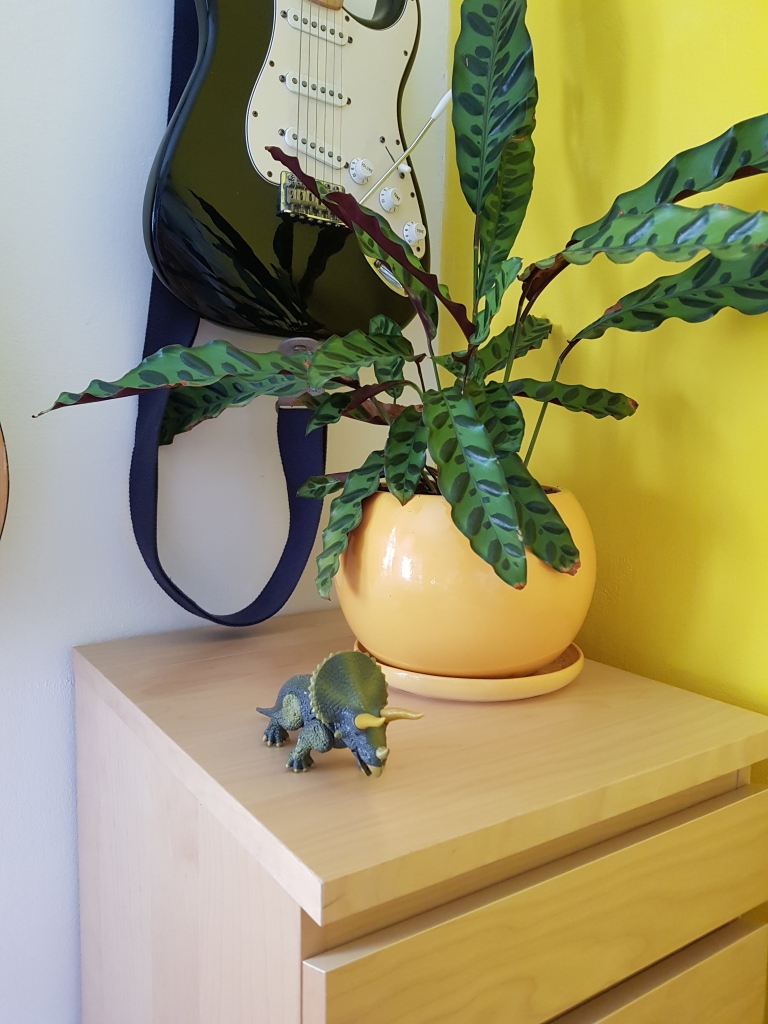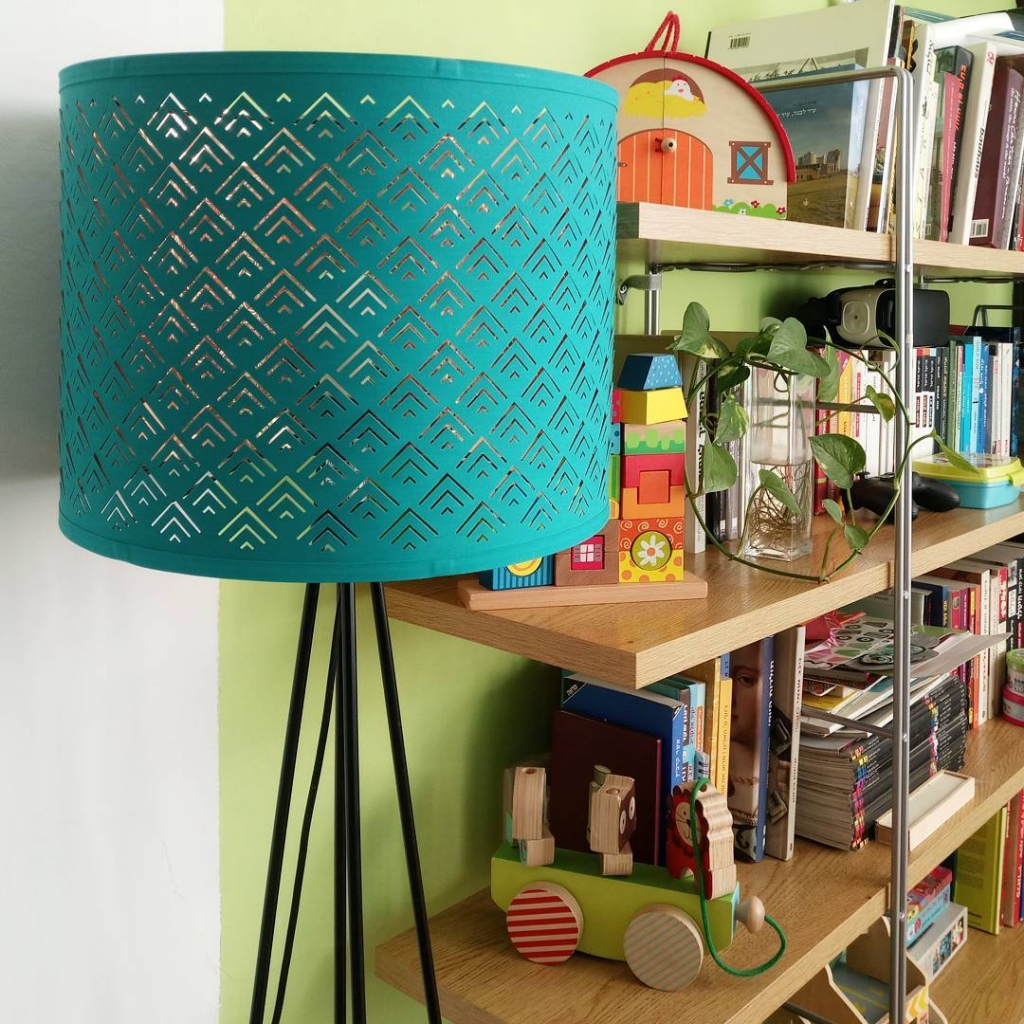 Children's books can also be used successfully!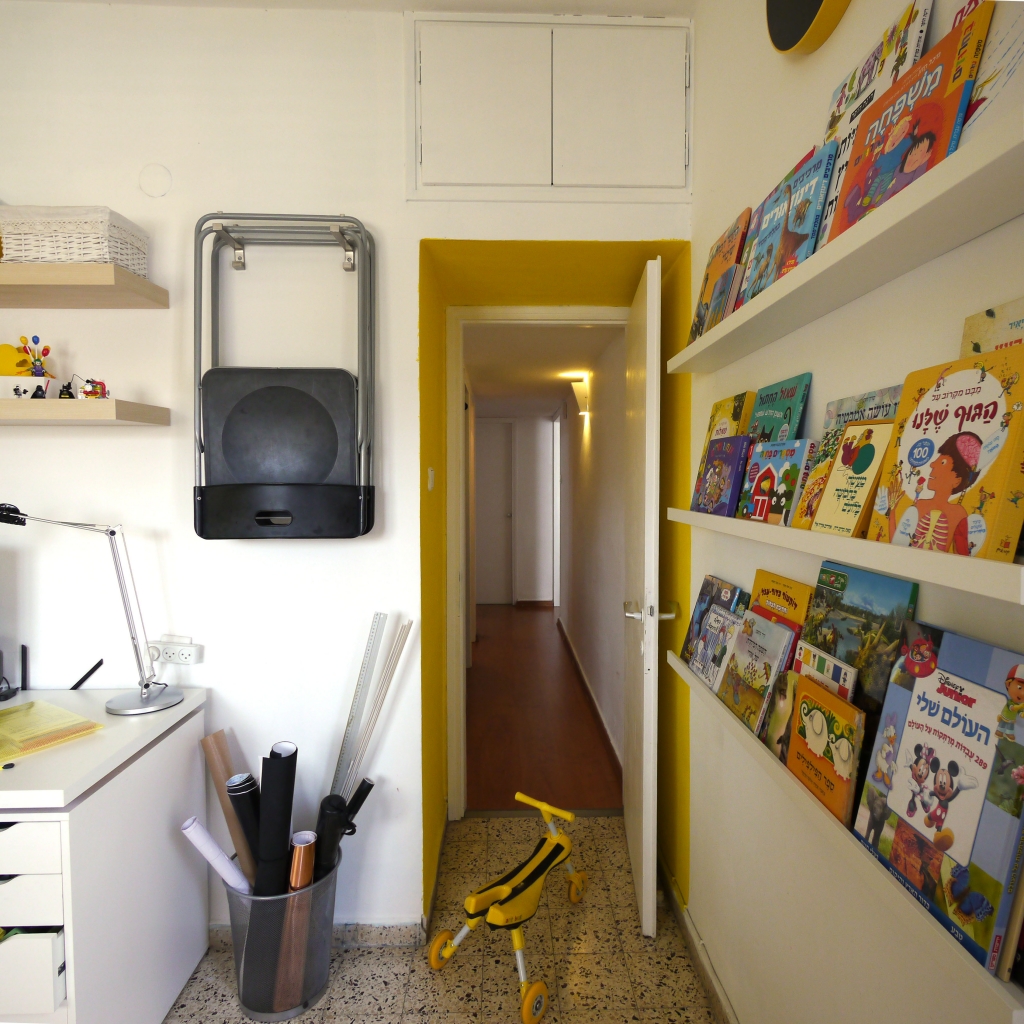 You can also use recycled materials. Here I used pockets that I cut from old jeans that I put into embroidery hoops, to decorate the walls and find a place for the baby's little toys.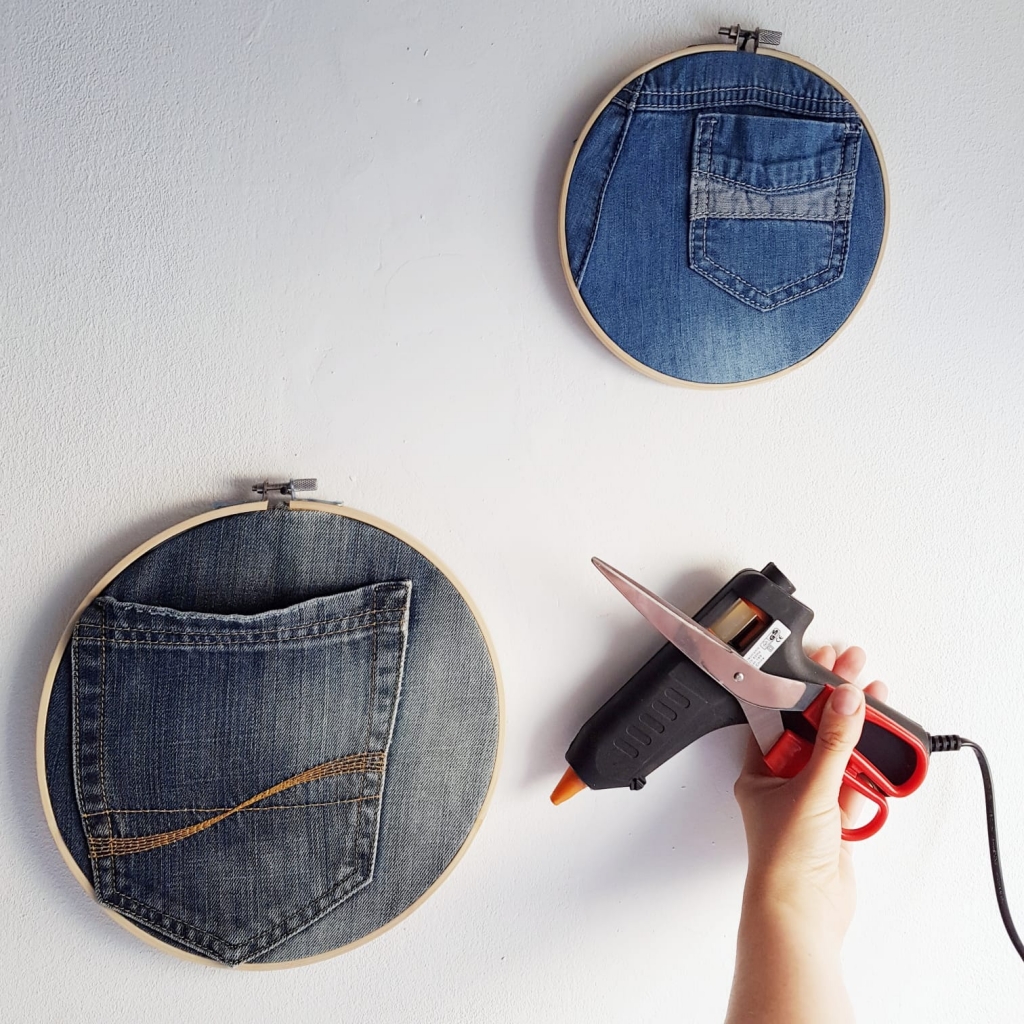 I hope I've given you some ideas. You're welcome to contact me here or DM me on Instagram with any questions.