I've mentioned so many times that the first step of any home styling project is cleaning and decluttering. Style and clutter can't really coexist together. Today I would like to tackle one painful issue for many – how to deal with paper clutter. Even though I'm not exactly an organization guru, many had asked me about paper clutter hacks or how to deal with paper clutter. I guess this issue affects almost anyone.
It seems sometimes that as the world becomes more and more digital, the amount of paper arriving at our houses isn't diminishing accordingly.
I would have expected not to have any paper, right? Well, unfortunately, in my house this is not the case.
Even though I have very strict rules regarding papers, our family isn't very good at obeying them, and when we don't follow the rules, we find our selves flooded with paper and documents.
Two years ago, when we moved from our apartment in Rishon Lezion to Tal-Aviv, I did a major decluttering project throwing away many old bills, certificates, and other documents.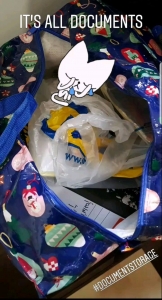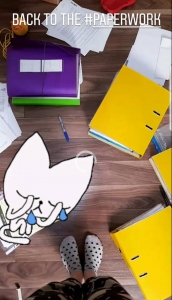 But even though the hard work I did, during last March and the COVID-19 quarantine we once again found our selves throwing away a huge amount of documents. One of our difficulties, to be honest, is that we don't follow the rules on a regular basis, and once every two weeks we have a dear and precious lady coming to our house to help with the cleaning, and she just stashes paper and documents where ever she feels like. During the quarantine, we found so many drawers packed with random documents we had to take care of.
Ever since we try harder to simplify our life and follow these rules:
Keep the paper out of your home:
If you pick up mail from your mailbox, open all the letters, throw away all the envelopes, and any brochures you are not interested in, preferably into a recycle bean.
When you get to a document you do need, think! Do you really have to keep the original? If not, just take a snapshot and upload it to the cloud (I use google drive). I love to use the CamScanner app.
After you have to documents filed at home, don't forget you don't have to keep them forever.
In each country and state, there are different regulations and norms for how long you should keep a document, so make sure you are informed.
Keep the paper out of your mailbox:
I've discovered that many people are still waiting for the bills to arrive, and then pay them. If you are one of them stop now. seriously, stop reading and go online and switch to e-billing and receipts by email. There is no need to have all these copies. You can add filters to your mail-box, and you can even use automation tools I will talk about at the end of this article to keep all the bills and the receipts organized.
Find your self a filing method:
There are so many domestic filing methods and systems. I can't recommend any in particular but here is what I do:
I keep all the documents and binders in my study. All the documents of the house are in the same room. I would have even preferred to have them on the same shelf but I'm still working on it. Here you can see how the binders are arranged on the shelf, and a chest I'm using for mainly medical documents and certificates and diplomas.
I have several categories relevant to my life: Bills (although this one has become completely digital), Medical, Work and taxes, Education and diplomas, Financial and insurance (also mainly digital nowadays),  Realestate and contracts, Recipes and guarantee for products. Each category is kept together in a binder
Action files – Some times I have documents related to ongoing processes or projects. These I keep on the desk or on my magnetic board above the desk.
I also use the metal document holder from IKEA to try and keep off the table all the documents I want to keep for a short time, or just waiting patiently to get filed in the binders.

The action category is very dangerous because it's so easy to ignore it.  For each project, I add an appointment in my calendar to handed the different phases and I try to add a scan of the file.
Be brave, throw away kids art:
Another category of paper many struggles with is the kids' drawings.
It's difficult to throw away but it accumulated so quickly.
Also here one simple thing to do is to take a snapshot and save it in the cloud.
If some drawing is really precious to you you can actually use it to decorate your house.
Here can see how I used some of my boys' masterpieces: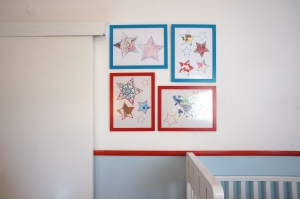 And you can also get some more inspiration here on my Pinterest board.
Set a calendar appointment for a paper decluttering session:
One of the things I do is to schedule some calendar appointments to help me deal with the paperwork.
The first one is set for every 6 months in order to deal and file regularly documents and papers from the Action file category, or paper that was just neglected.
You pick up all the paper clutter and bring it to one room. You set a paper bag or a box for documents you can trash another box for the paper you should scan and all the binders in which you file the documents you keep.
The other one is set for every two years in order to get rid of old irrelevant documents I have no need anymore. In this one, you actually go through all your binders and throw away the papers you don't need.
When you first get into the routine the amount of paper to go through looks overwhelming, but generally 1 hour is enough for the first one, and two to three hours is enough for the second.
Digitalization and automation:
I already mentioned Google Drive and CamScanner I use regularly. Scanning documents and adding them to shared folders makes it accessible for all of the family or partners all the time from anywhere. My next big project is going to be scanning my medical documents, and unfortunately, we have quite a lot of them.
Another hack I use is using an automation app. If you work with Gmail and google drive like me, you can automate your filing system. You can set a rule that will automatically save all the receipts into a shared folder in google drive. I started to use zapier a while ago, and it is just brilliant. It's a bit tricky at the beginning but it's really a life changer.
Get inspired and motivated
If you are just at the beginning, and overwhelmed, stay cool. It's a process.
There are a few decluttering Facebook groups I really find inspiring:
Decluttering and Organizing: Ideas and Encouragement
If you prefer YouTube you should check out these channels
Becky Moss – She has a quite new channel, but I found it very inspiring
You can also watch the Netflix Tidying up with Marie Kondo and her cute Google Talk even though her method is not for everyone. And if you want me to write more about it, let me know in the comments.
Good luck!