How to easily paint an amazing zig zag accent wall
$20 Materials
$15 Equipment
Ladder
Ruler
Spirit level
Wall painting kit
Paint
Masking tape
Pencil
Eraser
A few weeks ago, a friend of mine who lives down the street, asked me for help.
She had just opened her couples' therapy clinic in her house and has basically no budget to make it feel more welcoming.
Immediately I said "YES!!! Can I have a free hand?" and she answered "Go ahead", and this is how I finally got a chance to paint a chevron wall.
We did a total room makeover with a budget of 150$ but this is for a future post.
Today, let's talk about the chevron wall.
I chose to do a chevron or a zig-zag pattern. It took a while, but the effect is so delightful I really think it's worth the effort.
The picture frames are from IKEA, and the cactus drawings were made by hand as placeholders, just until my friend buys some real artwork, but she informed me recently she likes them too much. so she's kipping them.
Before and after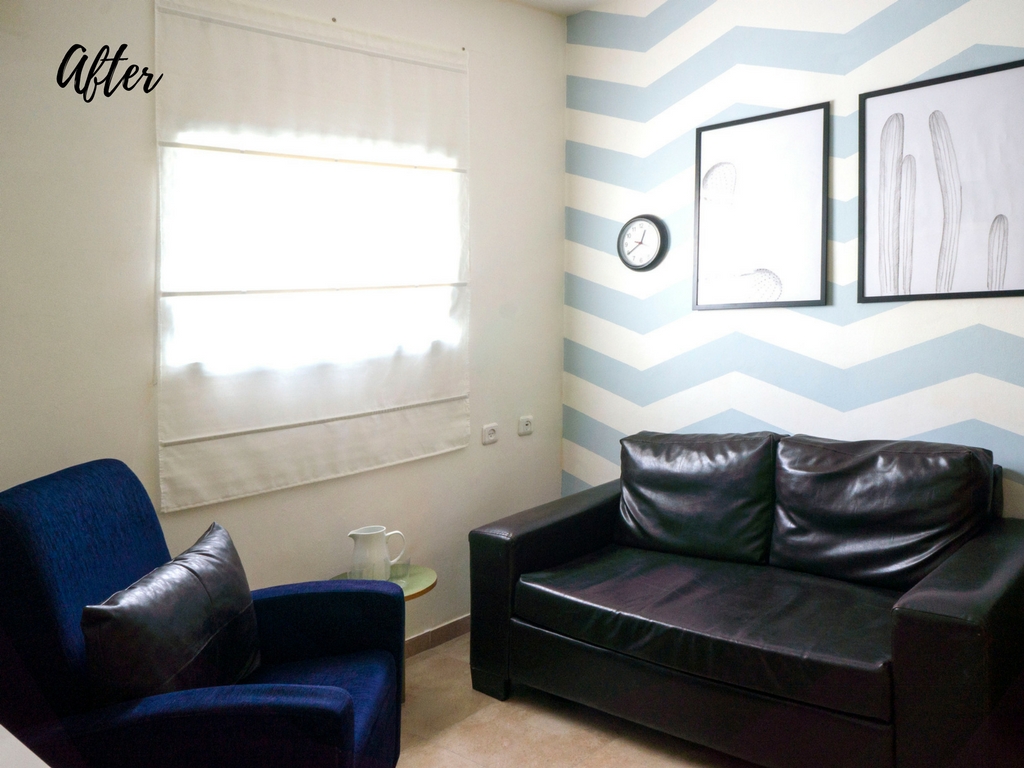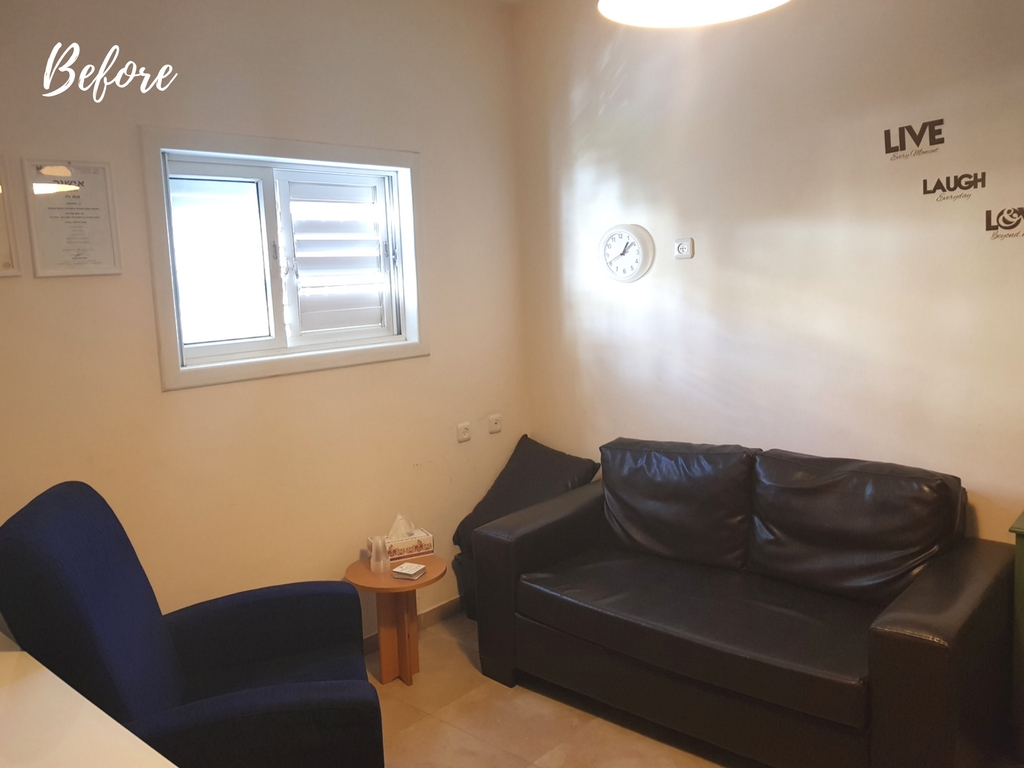 Here we go.
Step 1: Prepare the room and the wall
You can see full instructions for this step in this post in case you are not sure what to do, but basically we need to clear the wall area from furniture and other objects, clean the area because dust and other types of dirt can damage our finish, remove electric sockets and switches (don't forget to shut down the electricity) and protect the floor, panels, doors, etc. with masking tape and plastic sheets.
Step 2: Start marking a grid with a pencil
I decided on a grid of 15 cm vertical and 40 cm horizontal and with the help of a ruler and a level I marked all the intersection points.
Step 3:  Mark the zig-zag layout with a pencil.
Basically, you just need to link each intersection point to the other diagonally.
Step 4: Mark the zig-zag strips meant to be painted.
This in order to avoid confusion later on. I just stained the wall a bit with a brush paint. I actually made this step after taping, but I recommend you to do it before.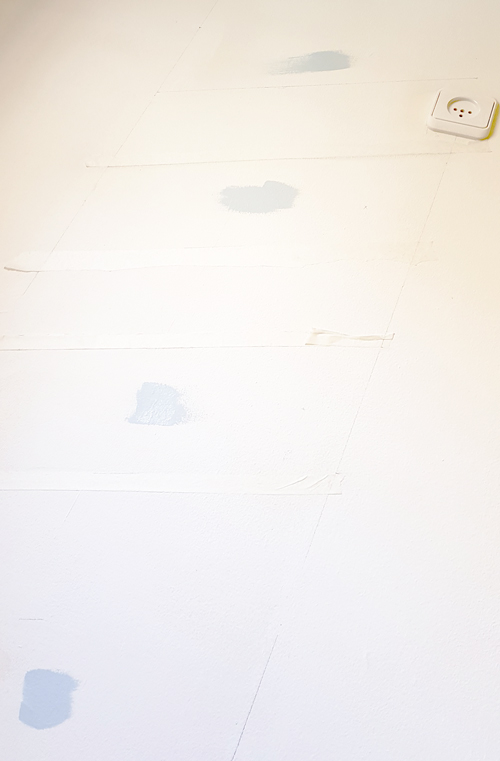 Step 4: Start taping the masking tape along the diagonals.
Now, this step is tricky for two reasons.
1. You need to make sure you are using a masking tape that won't tear off chunks of paint while peeling. And if you are not sure about it just use my "weakening" technique, by taping it to a piece of fabric first, and only then taping it to the wall.
2. You have to be very careful about the exact location of the tape. The tape should be placed always towards the inside of the zig-zag strip you are not planning to paint.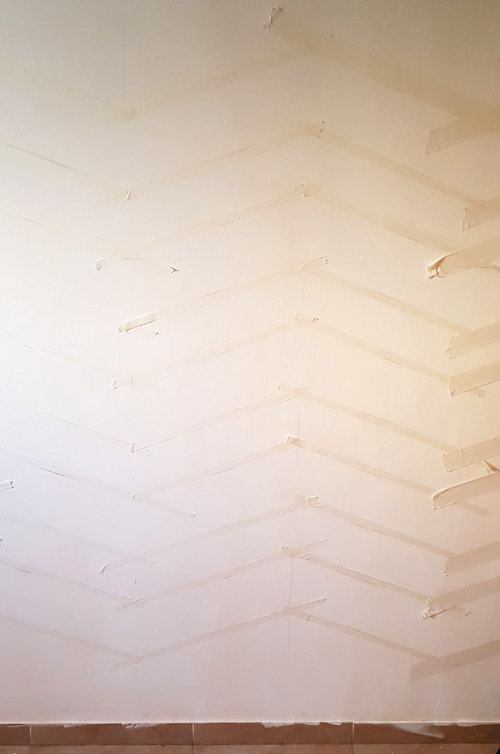 Step 5: Paint
Paint the wall according to the paint manufacturer's instructions. When you paint over the tape, try to squeeze the tape gently with your finger along the edges, to avoid the paint from sneaking under the tape.
Step 6: Peel
As you probably know by now, this is my favorite part.
As soon as the paint is dry to touch, start peeling gently and slowly.
If you wait for too long, the paint will harden over the tape and will be pulled out of the wall when peeling.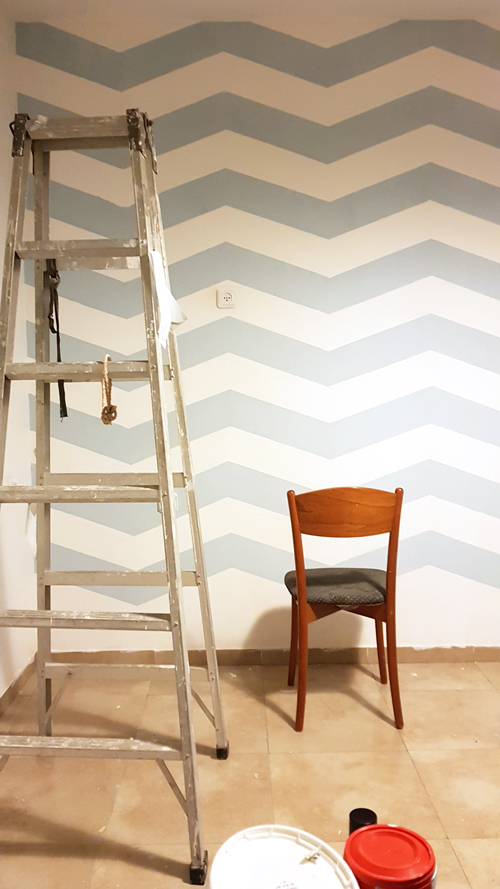 Step 7: Finishes and touch-ups
After the tape is removed, Apply corrections to any smears using a little brush.
Use the base paint (in our case – white) and the new paint where needed.
Step 8: Enjoy, and leave me a comment to tell me about your project!
See you soon with my next project.
Don't forget to follow me on Pinterest – where I get all my ideas from.
Don't forget to subscribe for updates!!